The DIAMENTOR RS-KDK is a measuring system which fully complies with IEC / EN 60580. The DIAMENTOR RS-KDK features the innovative chamber-in-chamber technology, which PTW invented many years ago. It allows to measure the dose, dose rate as well as the dose area product and dose area product rate simultaneously during radiographic and fluoroscopic X-ray procedures. The DIAMENTOR RS-KDK consists of an ionization chamber with integrated electronics (dimensions in total 182,5 mm x 163,2 mm x 17,4 mm). Thus, the DIAMENTOR RS-KDK can be used as a built-in DAP solution for fixation under the X-ray tube housing or transparent for light it can be firmly fixed to the collimator by adaptation rails. The chamber structures are not shown on the X-ray images. The system is available with an RS232 or RS485 interface. Alternatively, the DIAMENTOR BT Interface can be connected to the DIAMENTOR RS-KDK for wireless data transfer via Bluetooth. The DIAMENTOT RS-KDK can either be connected to a PC to read out the values or it can used in combination with the DIAMENTOR RS-D display unit.
Simultaneous measurements of DAP and dose units as well as of the exposure time
Automatic air density correction
Usage at an extended temperature range
Convenient installation via the DIAMENTOR RS connector box
DIAMENTOR RS-D Display Unit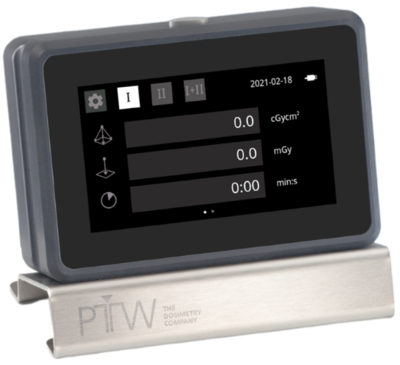 The DIAMENTOR RS-D display unit consists of a touch display and of electronics. Up to two DIAMENTOR RS-KDK, version RS485 (T11064) can be connected to the display unit. The measuring values are read out via RS232 or RS485. The DIAMENTOR RS-D display unit is fixed permanently close to the X-ray system and is used during the patient examination. The DIAMENTOR RS-D display unit is used to control DIAMENTOR systems with and without PC support.
Touch display unit
Connection of two DIAMENTOR RS-KDK possible
Selectable quantity indication