SSDL Calibration Education
Setting up a dosimetry calibration lab poses great challenges to anyone who has to start from scratch.
This three-day training course covers all major aspects of a Dosimetry Calibration Lab in theory and practice. It aims to provide participants with a fundamental knowledge about how to select the necessary components, how to design calibration procedures and how to maintain the measuring quantities.
Particular emphasis is placed on the Laboratory Standard ISO 17025 and efficient generation of radiation qualities.
The training course is held by experienced professionals at the PTW headquarters in Freiburg, Germany, where PTW operates a leading SSDL for dosimetric quantities.
With its mix of lectures, demonstrations and hands-on sessions, it primarily targets radiation specialists and technical staff with no or little experience in setting up a calibration lab who want to acquire the necessary knowledge and techniques in a practical work-oriented atmosphere.
Laboratory standard ISO 17025, QA-system, dissemination of measuring quantities
Code of practice and standards, overview:

Health Physics ISO 4037,
Therapy Gamma IAEA TRS 398,
Diagnostics IEC 61267,
Therapy X-Ray DIN 6817,
Therapy X-Ray CCRI

Isotope irradiators and X-ray irradiation sources: selection and commissioning
Monitor systems vs. direct comparison with secondary standard
Secondary standards: system selection, organization, maintenance intervals, traceability
X-ray radiation qualities: generation and characterization, PPV measurements
Calibration certificate and measurement uncertainty
Laboratory climate and safety
Calibration software
Common errors and pitfalls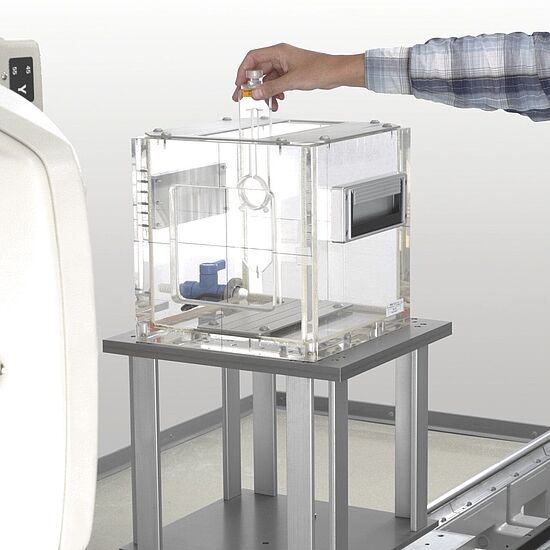 Target Audience: Radiation specialists and technical staff with no or little experience in setting up a calibration lab
Number of Particpants: max. 10 participants