Secondary dose verification: The journey from a single point to 3D dose verification with VERIQA
Thu, Dec 16, 2021, 4:00 PM CET

The new recommendations for independent dose verification of radiation treatment plans have created new challenges for physicists. How can we address these new challenges?
Dr. Sotiri Stathakis will will discuss what is required and recommended. He will use VERIQA as an example to explain which solutions provide the most benefit without burdening physicists' workflows.
Moreover, what can we learn from the additional data?
AAPM TG219 overview
Properties of a 3D dose verification software
Acceptance and commissioning of the software
Preliminary data at Mays Cancer Center by VERIQA
Lessons learned so far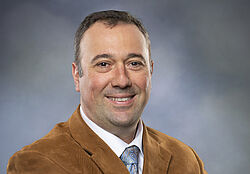 Speaker: Dr. Sotiri Stathakis is a Professor in the Department of Radiation Oncology and Radiology University of Texas Health Science Center, San Antonio.
No time to participate?
Register anyway and watch the recording on demand afterwards. You will receive a link to the video stream one day after the event.
Use the filters to find more webinars in your language and field of interest.