Cancer Hospital
Beijing, China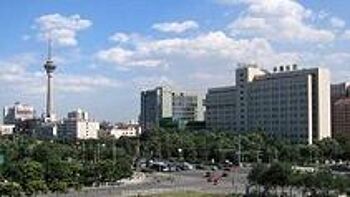 Beijing Cancer Hospital is one of the famous large special hospitals in the field of cancer research and treatment in China. It has 790 hospital beds, 26 clinical departments and 13 medical technology departments.
For the past many years, our hospital has been engaged in the diagnosis and treatment of various tumors such as breast cancer, lung cancer, colorectal cancer, liver cancer, gastric cancer, esophageal carcinoma, malignant lymphoma, gynecological cancer, tumor of head and neck, tumor of urological system, bone tumor and melanoma.
The hospital promotes cooperation between multiple disciplines, integrates medical sources of all departments, and has established different cooperation groups for mono-disease including breast cancer, gastric cancer, lymphoma, and liver cancer, providing normalized and individualized combined treatment for patients.

The radiation therapy department was founded in 1976. It has seven laboratories for basic research composed of more than 80 scientists and technicians with high quality, a ministerial key laboratory, and a field study base for high incidence of gastric cancer with a history of 30 years.
The school and hospital have been developing international and domestic communication and cooperation actively.
It has established long-term cooperation with many famous domestic and international medical schools, including Duke University in the USA and Louis Pasteur University in France, and famous research institutes such as National Cancer Institute NCI, MD ANDERSON Cancer Center, and Memorial Sloan-Kettering Cancer Center MSKCC in USA.
It also has sent out several scholars in related subjects each year to participate in academic exchanges. Many doctors have been sent abroad each year for advanced study with the foundation of ?Climbing Plan? established by the school. The school is responsible for more than 10 national and municipal continuing medical education programs and has academic visits, advanced study programs, and academic exchanges on an average of 800 times per year.

Beijing Cancer Hospital has become the first hospital in China to introduce new IMRT radiotherapy cancer treatments. Beijing Cancer Hospital's department of radiation oncology treats more than 2,000 new cancer patients each year from across China as well as from neighboring countries such as Vietnam.
The dosimetry equipment from PTW includes:
MP3 Therapy Beam Analyzer
OCTAVIUS IMRT evaluation system including 2D-Array seven29
DAVID in-vivo verification system
QUICKCHECK LINAC constancy test device
LINACHECK monitor test device
UNIDOSwebline
DIAVOLT diagnostic quality control set
CT phantoms
All kind of radiation detectors, even including an Extrapolation chamber
PTW software includes MEPHYSTO mc², VeriSoft, MultiCheck, UniSoft, DiaControl QC software
Mr. Wu Hao
Head of Physicists
Phone: +86-010-88196033

Beijing Cancer Hospital
Fuchenglu 52#, Haidian District, Beijing, P.R.China

http://www.bjcancer.org/