University Hospital
Jena, Germany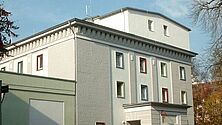 Jena University Hospital can look back at a more than 200-year history and is the biggest employer in the region today with more than 4,300 employees. Every year, more than 250,000 patients are treated as in-patients and out-patients at 26 clinics and polyclinics.

The following are available for radiotherapy and quality assurance:
Siemens Mevatron Primus linear accelerator
Siemens Mevatron Oncor linear accelerator
Theranostic Simulix HQ simulator with tomography attachment
Philips telecobalt device and Barry couch (translation for total-body irradiation)
HEK 2D block cutters
HEK 3D compensator milling machine
BrainLAB mMLC m3 stereotactic system and conical collimators
GE Lightspeed CT
Hille X-Ray radiotherapy device
Varian Gammamed Plus brachytherapy system
Anzai respiratory gating system
AGFA memory film system

Software
Siemens LANTIS Oncology Information System
Theranostic Masterplan Therapy Planning System
BrainLAB I Plan Therapy Planning System
Siemens KonRad IMRT Therapy Planning System for compensators and MLC
Theranostic IMCON simulation software
Varian BrachyVision Therapy Planning System
Theranostic Dicom Archive

The dosimetry equipment from PTW-Freiburg includes:
MP3 remote controlled 3D water phantom
UNIDOS therapy dosemeter
Detectors for photon and electron dosimetry (ionization chambers, diode detectors, diamond detector)
FipsPlus film evaluation system
2D-ARRAY seven29 planar ionization chamber array
MEPHYSTO mc² and VeriSoft software

Within the framework of collaboration with PTW, newly developed products are tested and product solutions are developed jointly for dosimetry and quality assurance in radiotherapy. One result of the many years of collaboration is the Geske monitor developed in 1985 for consistency checks of electron energy in linear accelerators. The VeriSoft software for IMRT plan verification was developed by PTW together with Dr. Tilo Wiezorek.
Clinic for Radiotherapy and Radiooncology at Jena University Hospital
Bachstr.18
07740 Jena
Germany

Tilo Wiezorek, Ph.D.
Head of Medical Physics Group
Phone +49-3641-933223, +49-3641-934004
Fax +49-3641-934233
tilo.wiezorek@med.uni-jena.de


Prof. Dr. Thomas Wendt
Director
Phone +49-3641-933214, +49-3641-934004
Fax +49-3641-933403
strahlentherapie@med.uni-jena.de