microDiamond Synthetic Diamond Detector
Nearly water equivalent for all beam energies
Very small sensitive volume (0.004 mm³) - perfect choice for small field dosimetry
Suitable for all field sizes up to 40 cm x 40 cm
Precise, accurate measurements in photon, electron and proton fields
Excellent radiation hardness, minimal energy, temperature and directional dependence
No high voltage required. Suitable for all connecting systems
(BNT, TNC, M)
microDiamond is the first commercially available single crystal diamond detector (SCDD) worldwide suitable for clinical dosimetry.
As a synthetic diamond detector, which is reproducibly manufactured in a new innovative production process, it combines the advantages of natural diamond detectors and silicon diode detectors almost perfectly. Due to its special design and material properties, microDiamond shows almost no deviations in absorbed dose to water even in the smallest field sizes, making it a perfect choice for accurate small field dosimetry.
The microDiamond detector was developed in cooperation with Marco Marinelli, Gianluca Verona-Rinati and their team at the Industrial Engineering Department of Rome Tor Vergata University, Italy.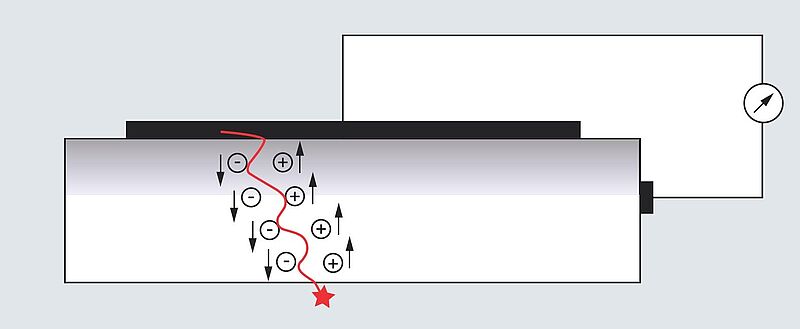 Basic operating principle
A Schottky diode develops below the top contact. The incident radiation generates positive and negative charge carriers. These are separated by the field of the diode, thereby producing a signal current that can be measured with an electrometer. No external bias voltage is required; the microDiamond detector can (and should) be operated at 0 V.
As a synthetic diamond, the new microDiamond detector offers significant advantages over commonly used silicon diode detectors in terms of radiation hardness, temperature, energy and field size dependence.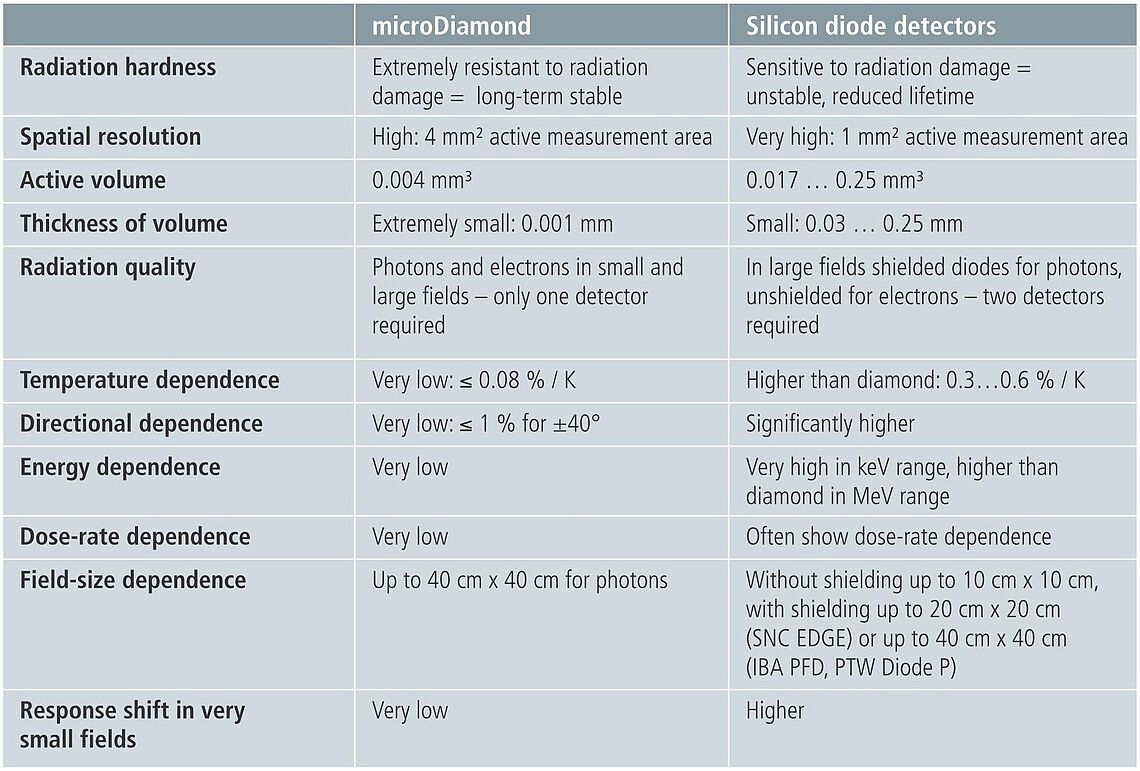 Brochure
Particle Therapy QA Tools (
)
Brochure
MR-RT Products (
)
Brochure
microDiamond Detector (
)
Catalog
Radiation Medicine Catalog (
)
Catalog
Detectors Catalog (
)